Island Garage Door has a complete line of commercial garage doors and hardware to meet the demanding requirements of today's modern building design professional. Contact Island Garage Door if you need a garage door in Naples, Marco Island or beyond. Our expert staff of is able to provide solutions for even the most demanding installations. All of our doors are designed and tested to meet and exceed the standards of the industry. Our experience can be counted on for dependable installations and prompt service.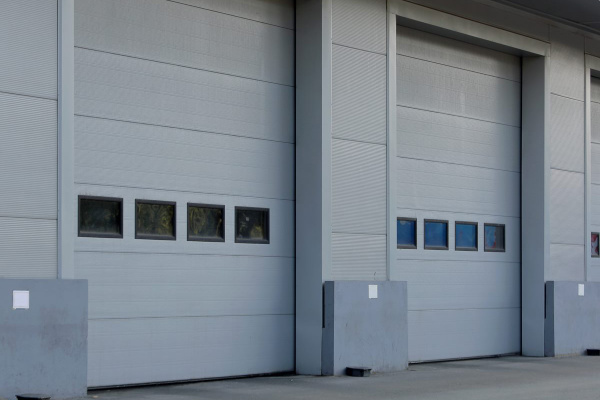 All Amarr commercial steel doors are manufactured in the USA with American-made components, affirming Amarr's commitment to high quality and durability. Sustainable Amarr commercial doors offer natural light transmission, thermal protection and reduced air infiltration.
Additional Benefits of All Amarr commercial steel door
Help to reduce the transfer of heat or cold air into your garage.
An insulated garage door will reduce the transfer of air from the outside to the inside.
If you use your garage as a workshop, your comfort will be a top priority.
Reduce the temperature fluctuation in your business.
An insulated garage door is generally quieter and has a more attractive interior than a non-insulated door
New commercial garage doors offer an Instant custom appearance.
Steel garage doors offer strength, security, energy efficiency and the best value.
Wood doors can be painted or stained to match the exact look you desire.
All glass options for the Amarr Aluminum Full View garage door are tempered for durability and strength.
You have increased privacy.
Types of commercial garage doors
Rolling Steel Series
The standard of the industry, the Amarr 4000 series provide excellent security and years of worry free operation. Doors are available in three steel gauges (18, 20, and 22) , depending on the size of the door. The Amarr 4000 Series is the heavy-duty solution for the commercial or industrial opening with a rolling steel requirement. The Amarr 4000 Series is available in replaceable 22, 20, or 18 gauge flat slats, in up to three standard colors.
In applications where climate control is a must, the Amarr 4100 series provides maximum energy efficiency by using polyurethane insulation between the exterior and interior galvanized steel skins and full perimeter weather-stripping. Our polyurethane insulation has an R-value of 6.29 and is of the highest quality available with a flame spread not greater than 25 and smoke generation less than 50. The Amarr 4100 Series is available in replaceable 22, 20, or 18 gauge insulated flat slats.
Designed specifically for counter top security where a clean, professional appearance is a must, these counter shutters provides all of the UL Listed features of a full sized fire door to protect your elevated openings in fire walls. The Amarr 4500 Series is designed to secure the retail counter opening in a fire wall while providing a clean, professional appearance while open or closed. The Amarr 4500 Series is available in painted or stainless steel to fit most counter fire door specifications requirements.
Sectional Aluminum
The Amarr 3552 aluminum door creates a clean style that is perfect for automotive showrooms and repair centers, service stations, car washes, fire houses, restaurants, and sports complexes. These doors can be mounted stationary or operative as a stylish alternative for al fresco situations. The ClearView Aluminum Strut System does not restrict the viewing area while adding strength and durability. The Amarr 3552 provides maximum natural light and visibility to help reduce electric light requirements while enhancing indoor environmental quality.
The Amarr 3502 aluminum door is constructed of 2″ thick extruded aluminum rails and stiles and can be fitted with solid aluminum panels or single pane glass. Perfect for service stations and fire stations – the Amarr 3502 creates a clean look for any facility. The Amarr 3502 provides a cost effective option for most aluminum full view project requirements. The Amarr 3502 provides maximum natural light and visibility to help reduce electric light requirements while enhancing indoor environmental quality.
Rolling Sheet Series
Perfect for most storage facilities, the Amarr 5101 offers excellent performance and reliability at an economical price. The Amarr 5101 Series is engineered to provide maximum protection and value for self storage openings and is available in 22 standard colors to fit your project needs.
The Amarr 5501 is economical and durable door option for most light-duty commercial applications. The Amarr 5501 Series is designed to be an economical option for the commercial opening without sacrificing performance, craftsmanship, or aesthetics. This series has 22 standard color options and utilizes a 9 1/2″ drum assembly so it can fit in headroom requirements as low as 19″.
Strong 26-Gauge corrugated steel with 22 standard colors, up to 4″ deep galvanized steel guides, and sizes up to 18′ x 18′ make the Model 5601 Series the perfect option for most commercial rolling sheet door requirements. The Amarr 5601 Series features dual galvanized steel slide bolt locks, 12-gauge steel wall mounting brackets, steel bearing shaft support, 12″ drums enclosed in a full width galvanized steel barrel, and heavy-duty galvanized steel guides.
Manufactured to withstand high wind speeds, the Amarr 5652 can help protect property and products in storm prone areas. Nylon windlocks provide maximum protection without sacrificing ease of operation. The Amarr 5652 Series has been designed and tested to meet the wind load requirements of the International Building Code and the Florida Building Code (FL14425). The Amarr 5652 Series utilizes nylon windlocks that provide high wind load pressure protection while allowing for ease of operation.
Sectional Steel
Amarr's top-of-the-line high R-value door is constructed with a thermal break, and uses foamed-in-place polyurethane insulation createing a strong monolithic panel that is energy efficient.
Time is money! Designed for Amarr commercial warehouse and dock doors. Our polyurethane insulation provides the best R-values per inch when compared to other common types of sectional door insulation.
Solid steel construction is the basis for the Amarr 2432. Two tough steel skins surround 2 inches of CFC-free polystyrene insulation. In addition, a thermal break creates a barrier to keep heat and cold from transferring through the door. 24 gauge exterior and 27 gauge interior steel bonds to rigid polystyrene to create a strong, energy efficient panel. Our polystyrene insulation is free of Ozone depleting Chlorofluorocarbons (CFC) while providing efficient insulation to help reduce the negative environmental impact of heating and cooling energy use.
The Amarr 2502/2512 combines strength with versatility for budget sensitive projects. The deep ribbed nominal 24-ga. steel sections can be factory- or field-modified with CFC-free polystyrene insulation featuring a nylon backer.
All Garage Door products carry a manufacturers warranty and are specific to the type of architectural installation: residential and commercial. Different doors and accessories may carry different warranties.or screen installed you will love it so much you will wonder how you had lived without it.